Little Kicks
---
WEYBURN SOCCER ASSOCIATION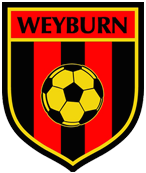 LITTLE KICKS PROGRAM INFORMATION
| | | | | | |
| --- | --- | --- | --- | --- | --- |
| YEAR OF BIRTH | SEASON (10 WEEKS) | TRAINING SESSION PER WEEK | LENGTH OF SESSIONS | GENDER | REGISTRATION FEE |
| 2019 AND 2020 | FALL (OCT - DEC) | 1 | 30 - 40 MIN | COED | $110 |
| | WINTER (JAN - MAR) | 1 | 30-40 MIN | COED | $110 |
| | SPRING (APR - JUN) | 1 | 30 - 40 MIN | COED | $60-$100 |
| | SUMMER (JUL.- AUG) | 1 | 30 - 40 MIN | COED | $60-$100 |
FALL/WINTER REGISTRATION OPTIONS
FALL-
Sunday Afternoon (October - December) - $110 - Max 20
WINTER-
Sunday Afternoon (January - March) - $110 - Max 20
FULL SEASON - FALL/WINTER - 20 Sessions - $180
SPRING - DAY AND TIME TBD
Registration Fees Include but Are Not Limited to The Following:
SSA Fee
Equipment Use
Facility Fee
Coach Education/Certification
Team Personnel Insurance
Training Shirt
IMPORTANT NOTE: Teams will be formed based on number of coaches registered. If you register late there is no guarantee that there will be a place for your child on a team.
LITTLE KICKS FALL/WINTER Program: The Little Kicks program will hold weekly practices, 30/40 minutes in duration and consisting of general movement, soccer skills and fun games. The program goal is to provide to our youngest players and their parents with a "pressure free" introduction to the beautiful game of soccer. At this age, players should be exposed to soccer by playing simple, fun activities and games. The program is designed to provide young players with a combination of technical instruction and small-sided games (age appropriate) in a fun environment. The focus is on the development of player's agility & co-ordination, motor skills and team participation. We hope that Little Kicks will help build a solid platform for a life long love for fitness and team sports… but selfishly, we hope it's soccer!
?The program follows our preferred training model of station training. This program focuses on teaching the fundamental aspects of:
sport participation
encouraging all young players to learn the different aspects of soccer
the development of physical and movement literacy
Building on the fundamental techniques, our program is designed to;
to allow participants to explore with the ball,
to engage with the foundational skills such as dribbling, passing, and shooting in a competition free environment
Game Format - No formal games played
Ball Size - 3
Goal size - Pop up (3ft x 5ft)
EQUIPMENT NEEDED:
1) closed toes shoes, cleats or turf cleat
2) water bottle
Note - This information is reviewed seasonally and subject to change.