U11 Program Information
---
WEYBURN SOCCER ASSOCIATION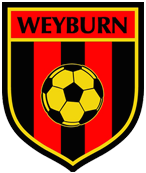 U11 LEARN TO TRAIN PROGRAM INFORMATION
| | | | | | |
| --- | --- | --- | --- | --- | --- |
| YEAR OF BIRTH | SEASON (10 WEEKS) | GENDER | TRAINING PER WEEK | LENGTH PER SESSION | REGISTRATION FEE |
| 2012 AND 2013 | FALL (OCT - DEC) | M/F | 1 | 60 MIN | $150 |
| | WINTER (JAN - MAR) | M/F | 1 | 60 MIN | $150 |
| | SPRING | M/F | 2 | 60 MIN | $110 |
| PLAYER DEVELOPMENT PROGRAM (DEVILS COMPETITIVE) | FALL, WINTER, SPRING | M/F | 1 | 60 MIN | $160 |
REGISTRATION PACKAGE OPTIONS FALL AND WINTER:
Community Programs:
FALL - WEDNESDAY Evening (October - December) - $150
WINTER - WEDNESDAY Evening (January - March) - $150
FULL SEASON COMMUNITY PROGRAMS- (October - March) - $250
SPRING - GIRLS: MONDAY AND WEDNESDAY; BOYS: TUESDAY AND THURSDAY
Community and Player Development Programs
Wednesday and Sunday (Player Development Program) (October - December) - $285
Wednesday and Sunday (Player Development Program) (January - March) - $285
FULL SEASON OPTION - Wednesday and Sunday (Player Development Program) (October - March) - $485
SPRING- FEE'S TBD
Registration Fees Include but Are Not Limited to The Following:
SSA Fee
Equipment Use
Facility Fee
Coach Education/Certification
Team Personnel Insurance
Training Shirt
Referee's
**Tournament fee's and travelling costs are not included in registration fee's - Coaches will require additional player fee's for those participating in the PDP programs.
IMPORTANT NOTE: Teams will be formed based on number of coaches registered. If you register late there is no guarantee that there will be a place for your child on a team. Last day to register is September 12rd, 2021, or until program is full. Starting September 12rd, 2021, or when program is full individuals will be put on a waitlist.
U11 FUNDAMENTAL COMMUNITY PROGRAM: The U11 program will hold weekly practices, 60-90 minutes in duration and consisting of general movement, soccer skills and small-sided games. They will also be introduced to game play and will have games scheduled throughout the 8-10-week blocks. U11 game days will consist of a scheduled match against another WSA U11 team. The philosophy of the U11 program is to support play within reasonably modified and applied laws of the game. There are referees but no official scores, or standings are recorded.
This stage is known as 'The Golden Age' of learning. By this stage players should have developed a strong degree of their physical literacy and confidence with the ball; they are now ready to play the game. The game really is now a team game and introduces tactics and team formations. It is important to consider the players characters and where they are within the education system and their personal development. They would have been in education for some time and mastered the social skills of learning, receiving instruction, sharing and co- operating in group tasks. Essentially they are more 'community' group focussed and ready for the team environment. They will also have developed a desire to question instructions and find solutions to problems unassisted, all these qualities should be used in supporting their further development and passion of soccer.
THE GAME
As indicated this stage introduces the first real stage of team tactics and formations, although in an adapted small sided game format. It is here that the principles of invasion games and possession should be encouraged. The main principles are when a team is in possession they should create space, when the opposition is in possession a team should deny space.
Due to the changing team emphasis, there will be a greater focus upon the techniques of passing and receiving, the game is based upon moving the ball quicker than your opponents may pursue it. Therefore players need to recognize when to dribble and when to pass, and also the benefits of these skills in relation to the respective area of the field. Children are now students of the game and should be encouraged whenever possible to not only play but also observe games to mimic the plays they witness.
The game now introduces a more structured approach. The element of competition is important to players of all ages, as a test of one's ability and development. It should again be reiterated that these are young players and although they are embracing more structured competition, there will continue to be mistakes as they remain in the early stages of their overall development. It is encouraged that players, parents and coaches should view any mistake as a learning opportunity to support and promote future growth and development.
PLAYER DEVELOPMENT PROGRAM (DEVILS)
Weyburn Soccer Association believes in providing a "Positive Soccer Experience" to all members. Everyone at WSA deserves the opportunity to develop their abilities to their full potential. As such, WSA is proud to offer a Player Development Program (PDP). This program is an introduction to our Devils programming (competitive stream).
Skill development is the primary goal for all youth players, particularly between the ages of 7 and 12, as outlined in the CSA's Long Term Player Development (LTPD) model. WSA will focus its resources on skill development by creating a developmental environment for every player that matches his/her individual playing needs and abilities. As players mature, they need to be given the freedom to move up or down the competitive spectrum, depending on what environment best meets their developmental stage.
When you sign up for our PDP program you receive:
1) Extra practise times
2) Zoom player education sessions with iCloud Coaching
3) Information on nutrition and nutrition consulting - Sarah Church
4) Mental Health training
5) Player analysis on games played (older players can get clips of them saved to a folder for recruiting)
6) Opportunity to travel to games and tournaments
EXTRA FEE"S:
Tournament fees, travel and accommodation, team tracksuit, social player events.
In our player development program we slogan "COME TRY US OUT" as we don't have try outs, anyone wishing to try the PDP program are welcome too! Players mist be registered in the community programming to be part of the PDP programs.
PREFERRED TRAINING MODEL: GAG Model
The use of the GAG Model - Game Activity Game - allows for a balance of coaching a specific topic within a game, developing that topic in the activity, and allowing the players to implement that in the game for themselves without coaches constantly talking.
The second game is vital to allow players to make mistakes or do something great and so learn for themselves. Coaches will be there to encourage for this game and ensure player rotation.
Game Format - 7v7
50min games
Field size - 22m x 30m
Ball Size - 4
Goal size - 16ft x 6ft
REQUIRED EQUIPMENT:
1) Closed toes shoes, cleats or turf shoes
2) Shin pads
3) Water bottles
Training shirts, jerseys, short and socks will be provided by WSA
Note - This information is reviewed seasonally and subject to change.