U13 Program Information
---
WEYBURN SOCCER ASSOCIATION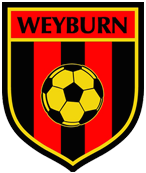 U13 PROGRAM INFORMATION
| | | | | | |
| --- | --- | --- | --- | --- | --- |
| YEAR OF BIRTH | SEASON (10 WEEKS) | GENDER | TRAINING PER WEEK | LENGTH PER SESSION | REGISTRATION FEE |
| 2010 AND 2011 | FALL (OCT - DEC) | M/F | 2 | 60 MIN | $250 |
| | WINTER (JAN - MAR) | M/F | 2 | 60 MIN | $250 |
| | SPRING ( APR- JUN) | M/F | 2 | 90 MIN | $110 |
| DEVILS COMPETITIVE PROGRAM | FALL, WINTER, SPRING | M/F | 1 | 60 - 90 MIN | $160 |
REGISTRATION PACKAGE OPTIONS FALL AND WINTER:
Community Programs:
FALL - Monday and Thursday Evening (October - December) - $250
WINTER - Tuesday and Thursday Evening (January - March) - $250
FULL SEASON COMMUNITY PROGRAMS- (October - March) - $420
SPRING - GIRLS: MONDAY AND WEDNESDAY; BOYS: TUESDAY AND THURSDAY
Community and Player Development Programs
Tuesday, Thursday and Sunday (Devils Competitive) (October - December) - $410
Tuesday, Thursday and Sunday (Devils Competitive) (January - March) - $410
FULL SEASON OPTION - Monday, Thursday and Sunday (Devils Competitive) (October - March) - $710
SPRING- FEE'S TBD
Registration Fees Include but Are Not Limited to The Following:
SSA Fee
Equipment Use
Facility Fee
Coach Education/Certification
Team Personnel Insurance
Training Shirt
Referee's
**Tournament fee's and travelling costs are not included in registration fee's - Coaches will require additional player fee's for those participating in the PDP programs.
** Families that register for both blocks will receive a discount**
IMPORTANT NOTE: Teams will be formed based on number of coaches registered. If you register late there is no guarantee that there will be a place for your child on a team.
U13 SOCCER FOR LIFE COMMUNITY PROGRAM: The U13 program will hold weekly practices, 90 minutes in duration and consisting of, soccer skills and small-sided games.
The Soccer for Life Program provides an environment where players can develop technique, skill, creativity and game-understanding to their full potential. Long-term player development drives all coaching activities at WSA and is thus core to the design of the community program. Coaching programs are crafted to suit the specific needs of each age group, ensuring that all players are given the opportunity to maximize their potential in a supportive environment that matches their level of commitment and their stage of development. Community soccer players are developed in the program through a holistic approach involving the four key aspects of athletic training: the technical, the psychological, the physical and the social.
We believe that long-term love of the game arises from the enthusiasm of coaches who foster the development of technique, skill, game sense and creativity. Soccer coaching encourages crucial life-skills, including teamwork, dedication, perseverance, discipline and hard work. The starting point for all soccer development is mastery of the ball.
DEVILS COMPETITVE TEAM
Weyburn Soccer Association believes in providing a "Positive Soccer Experience" to all members. Everyone at WSA deserves the opportunity to develop their abilities to their full potential. As such, WSA is proud to offer a opportunity to play at a higher level in our Devils Competitive team. The competitive teams are all seasonal based teams, in that they may play in the fall/winter season, and the spring season. Entering onto these teams is first done through a try-out. Players will generally receive two - three practices plus additional travel for festivals or tournaments is required.
When you sign up for our competitve program you receive:
1) Extra practise times
2) Zoom player education sessions with iCloud Coaching
3) Information on nutrition and nutrition consulting
4) Mental Health training
5) Player analysis on games played (older players can get clips of them saved to a folder for recruiting)
6) Opportunity to travel to games and tournaments
EXTRA FEE"S:
Tournament fees, travel and accommodation, team tracksuit, social player events.
**Players mist be registered in the community programming to be part of the Devils Competitive programs.
PREFERRED TRAINING MODEL: GAG Model
The use of the GAG Model - Game Activity Game - allows for a balance of coaching a specific topic within a game, developing that topic in the activity, and allowing the players to implement that in the game for themselves without coaches constantly talking.
The second game is vital to allow players to make mistakes or do something great and so learn for themselves. Coaches will be there to encourage for this game and ensure player rotation.
Game Format - 6v6 OR 9V9
60min games
Field size - 45M X 60M
Ball Size - 5
Goal size - 16ft x 6ft
REQUIRED EQUIPMENT:
1) Cleats or turf shoes
2) Shin pads
3) Water bottles
Training shirts, jerseys, short and socks will be provided by WSA
Note - This information is reviewed seasonally and subject to change.